Veterinary Receptionist & Animal Care Assistants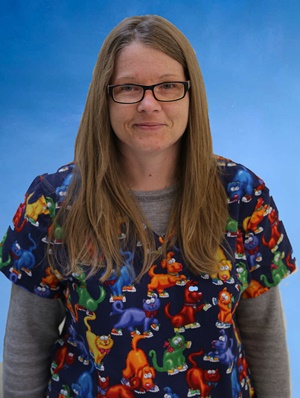 Deanne
Veterinary Receptionist
Deanne joined our South Side Animal Hospital team in April of 2015. She has a Sociology degree and a Law and Security diploma, previously working at the Ford Engine Assembly Plant with the Security Department and Emergency Response Team before switching into the animal health field when she moved to Alberta. Deanne has experience both working in small animal practice and at the Edmonton Humane Society. Deanne is an active volunteer for animal related initiatives, helping with the Edmonton Humane Society's Prevent Another Litter (PAL) program, the Alberta Spay and Neuter Task Force, and with the Ontario Humane Society prior to moving here.
Deanne chose to join our South Side team since we are a small, privately-owned clinic that focuses on the well-being of our patients. She loves being a part of helping sick and injured pets recover and return home to their families and feels the best part of her job is seeing happy and healthy pets.
When she is not busy with her work and volunteer commitments, Deanne enjoys spending time with her cats Chopper, Abbey, and Grover and her dogs Roxy, Rosie, and Wynn. She enjoys spending time with her friends, traveling back to Ontario to see family and friends there, sports, and watching the Big Bang Theory and Survivor. Deanne is a fan of liver music and concerts and attends them whenever possible. She also has a special interest in animal behaviour and spends time expanding her knowledge in this area. We are lucky to have such a dedicated person on our animal care team!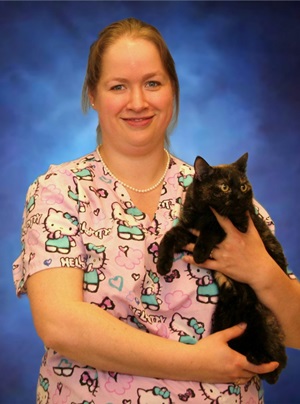 Megan
Veterinary Assistant
Megan began working at South Side Animal Hospital as an Animal Care Attendant in 2006. Her family has ties with our clinic, with her sister previously holding the same position. Megan often would come and help her sister at the clinic and was very excited to have an opportunity to work in the animal health field when the position became available. Megan grew up in an animal loving household and her family was never without at least one dog or cat.
What Megan loves most about being an Animal Care Attendant is that she is always learning on the job. It has opened her up to different types of animals she would otherwise not experience, such as having a pet hedgehog in the past. She has learned about many new treatment options for pets and loves being able to interact with the boarding cats, dogs, rabbits, guinea pigs, and others (including pigeons)! Megan loves working with all types of animals and has enjoyed learning more about wildlife medicine. Megan likes that we can help to improve the general well-being of all our patients.
Megan lives with her husband, daughter, and her two cats. In her little spare time, Megan enjoys reading, crocheting, and going to the park with her family. She has previously taught Sunday school and worked with inner city children. She hopes to someday have more time to volunteer with the Edmonton Humane Society fostering pets and helping them prepare for their forever homes.
Megan currently works evenings and weekends at South Side Animal Hospital. Due to Megan's evening work schedule, she often works behind the scenes to make sure the clinic is ready for our next day. She can be found in the back of the clinic visiting with the boarders and talking with our clinic cats Zoe and Jeronimo. We are happy to have such a dedicated person on our team!
Shaylagh
Veterinary Assistant
Shaylagh started working at South Side Animal Hospital in 2015. She currently works part-time during the school year while she is completing her Bachelor of Science degree in Biology at Grant MacEwan. She chose to join our hospital team to gain experience in a private practice and because she has a strong interest in exotic and small animal practice.
Shaylagh loves that she is able to see and learn many new things working in an animal hospital. She enjoys caring for boarding animals and loves getting to know these individual patients. When Shaylagh is not busy helping animals, she enjoys going to movies, doing yoga, and spending time with her family and friends including her 2 miniature daschunds Bruno and Olive and her pug Honey.

Rosa
Veterinary Medical Assistant

Kayla
Veterinary Medical Assistant

Arianna
Veterinary Assistant

Andrea
Veterinary Assistant