Medical Procedures & Treatments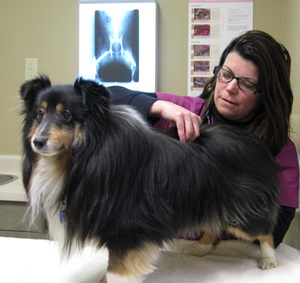 At South Side Animal Hospital, your pet is our family. We offer all patients the best treatments available and are able to adjust treatment plans to suit both you and your pet. We use two fully accredited laboratories: Antech and Idexx to send out complete blood and urine screens as well as more specialized tests and often have results within 24 hours. If results are needed more quickly, our registered Animal Health Technologists are able to run in house chemistry, blood counts, urine and fecal tests, cytology, and viral tests.
Sick animals can be hospitalized at South Side Animal Hospital and will be cared for by our excellent Animal Health Technologists under direct supervision of our veterinarians. We are able to administer intravenous fluids, pain control, and oxygen as needed to properly care for your pet. All hospitalized patients are regularly monitored to ensure they are comfortable and receiving the treatment they require.
South Side Animal Hospital is equipped with in-house x-rays and our veterinarians are able to interpret the x-rays quickly and efficiently. In complex cases, we can send x-rays for second opinions from specialist veterinarians if needed. We are also able to provided ultrasounds on site through FVS (Friesen Veterinary Services) Imaging and PVCS (Pulse Veterinary Cardiology Services). FVS Imaging is able to provide complete diagnostic ultrasounds along with additional tests such as biopsies and aspirates to help diagnose many internal diseases. Dr. Hawkes of PVCS is a veterinary cardiology specialist and is able to provide on-site Cardiac Ultrasounds and assist in determining the proper treatment plan for any heart disease patients.
South Side Animal Hospital also works closely with various internal medicine specialists and alternative therapy providers to offer clients referrals if we feel this will benefit your pet.