Managers & Registered Veterinary Technologists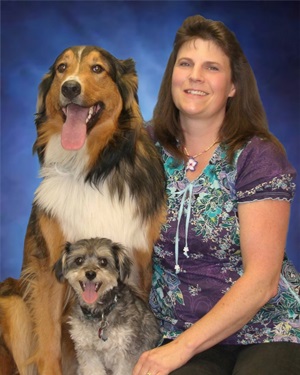 Marnie
Registered Veterinary Technologist/Office Manager
Marnie is South Side Animal Hospital's longest standing employee. She has been employed with the clinic since 1991 and is dedicated to the clinic, patients and clients. Marnie completed two years of an undergraduate science program at the University of Alberta prior to switching into the Animal Health Technology program at the Northern Alberta Institute for Technology. Prior to her graduation in 1991, Marnie completed her practicum at South Side Animal Hospital and really enjoyed the people and working environment that we offered. For this reason she was happy to accept a permanent position at South Side Animal Hospital and has never left! After graduation, Marnie also worked at the Edmonton Humane Society part time, gaining valuable experience.
Marnie decided to become an Animal Health Technologist because she enjoyed working with animals and was interested in medicine, and found this gave her a perfect balance of both. She enjoys spending time with her patients and is glad she is able to help them when they are sick. Since Marnie has also become an office manager, she has added skills in management, accounting, and clinic organization. This variety is something that Marnie enjoys and she looks forward to facing new challenges and gaining new experiences in her job. Marnie is truly a jack of all trades at our clinic helping to keep the clinic running smoothly.
Marnie loves all types of animals. When you ask her which animals she likes best, she says "the cute ones" which pretty much covers all animals in her eyes. Marnie is someone who truly enjoys her job and is often found rushing around the clinic with a smile on her face. In her free time, Marnie is a very talented Ukrainian and Polynesian dancer and dedicates much of her time to practicing and performing. She enjoys spending time with her husband and two kids. Her family lives in Edmonton and shares their home with their two dogs, a rabbit, and a fish.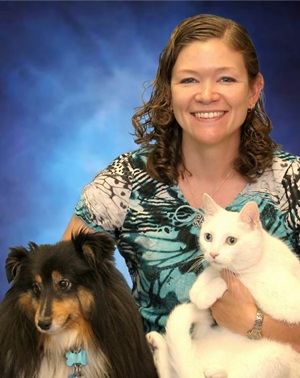 Danielle
Registered Veterinary Technologist
Danielle started as a volunteer at South Side Animal Hospital in 2007. After spending time at our clinic, her passion for animals shone through and Danielle applied to the Northern Alberta Institute of Technology, graduating in 2010 as an Animal Health Technologist. She completed the VTNE (Veterinary Technologist National Examination) to become fully registered as a technologist. Danielle continued to work at our hospital part-time while in school, moving to a full time position as an Animal Health Technologist when she graduated.
Animals have always been a huge part of Danielle's life. Danielle's very first pet was a newt named Smokie, who is now 30 years old and still going strong. Danielle had actually wanted a pet dinosaur and her parents felt this was a fair compromise. Throughout her childhood, she and her sister convinced her parents to get a cat, and later a rabbit. The first thing Danielle did when she moved out as an adult was get her very own cat. Her pet family has continued to grow and she now has five cats, two dogs, two rabbits, her newt Smokie, a cornsnake, and her horse.
Danielle always wanted to provide the best healthcare she could for her "furmily"" and becoming a Veterinary Technologist has allowed her to do this for everyone else's pets as well. She loves meeting new family pets and watching them as they grow up. When Danielle gets to see the same pets, she is proud to witness the benefits that good healthcare can provide and finds this extremely rewarding. The difference we can make in the quality of life for sick pets also makes her job very fulfilling. Danielle loves all animals but has a soft spot for rabbits and cats (especially polydactyl cats (with extra toes) or sphinx kitties!) She is constantly amazed by all of the different personalities that our rabbit patients display and knows that some people don't realize what little characters they can be! She enjoys working with wildlife, in particular with the birds of prey species. Danielle has become a very proficient Veterinary Technologist in all areas but has truly excelled in the area of surgery.
When Danielle is not busy helping our patients, she enjoys going out to see her horse Dexter and snuggling her furry family at home. She also enjoys spending time with her sweetie Gary who is training hard to become a firefighter. They enjoy cycling, camping, snowboarding, motorcycling, and travelling together when the opportunity allows.
Nicole
Registered Veterinary Technologist
Nicole's love for animals, as well as her keen interest in all things science related, pushed her to pursue a career in the animal health field. She attended the Northern Alberta Institute of Technology and graduated in 2013 from the Animal Health Technologist program. She completed the VTNE (Veterinary Technologist National Examination) to become fully registered as a technologist and has been working passionately as a Registered Veterinary Technologist ever since. After working for three years in a small animal clinic with a heavy focus on reproduction, Nicole decided it was time for a change and joined our South Side team in 2016.
During the warmer months, and some cooler ones too, Nicole enjoys her time outside of work camping and traveling. She is usually accompanied by her Basset Hound Cooper and her partner Jordan. When it becomes too cold to keep putting up the tent, Nicole spends her time knitting, crocheting, and reading. Recently Cooper went from being an only child to having 2 sisters – Ygritte and Largatha, a pair of 1 year old guinea pigs.
In addition to her interest in animal medicine, Nicole also has a keen interest in live music, stand-up comedy, good coffee, sarcasm, and all things paleontology related. Her favorite dinosaur is the Ankylosaurus.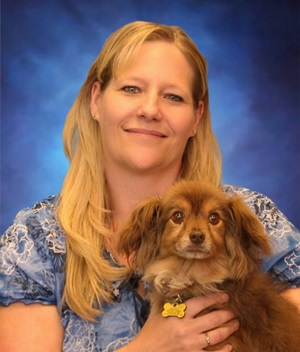 Rhonda
Registered Veterinary Technologist
Rhonda has always had a deep love for animals and decided to go to school so she could work closely with them on a regular basis. She graduated from the Animal Health Technology program at the Northern Alberta Institute of Technology in 1992 and then gained valuable experience working in small animal and emergency medicine in multiple clinics prior to joining our team at South Side Animal Hospital in 2007. Rhonda is a very experienced and knowledgeable person and loves working with families to help teach them how to care for their pets. The favorite part of her job is helping our senior patients, trying to keep them healthy and comfortable as long as possible.
Rhonda is a busy mother of 2 and spends most of her time supporting her children in their activities. She also shares her home with a sweet little cat named Lexi.
Melissa S.
Registered Veterinary Technologist
Melissa started working at South Side Animal Hospital in 2002 after one of her school instructors recommended our clinic as a good place to work. She completed the Animal Health Technology program at Northern Alberta Institute of Technology in 2001 and went on to complete the VTNE (Veterinary Technologist National Examination) to become fully registered as a technologist.
Melissa has always had a huge love for animals combined with a passion for nursing critters back to health. Working with animals was always her dream and for the first couple of years after high school, Melissa worked at a golden retriever breeding kennel. She chose to go to Veterinary Technologist school when she realized that this career would allow her to spend extensive amounts of time with animals. Melissa's favorite part of the job is nursing an animal back to health and then seeing the look of joy on an owner's face when they are reunited with their friend.
Melissa has a particular fondness for cats and dogs and has been the proud owner of both. Melissa has had many animals in the past including a Yorkie/Maltese mix and a Shepherd X dog. Melissa and her husband Brad are the proud parents of two children Keira and Ben and have two cats Mikey and Levi. She enjoys camping with her family in her free time and shares her time volunteering at her children's school and with her church.

Cynthia
Registered Veterinary Technologist

Maria Eugenia
Registered Veterinary Technologist