Our Furry Team - The "Bosses"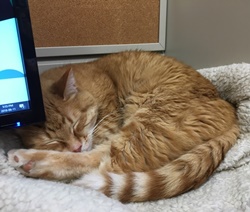 Static
Static is a 10 year old neuter male domestic short haired cat that came to South Side Animal Hospital in December of 2017 when he was looking for a new home. He quickly fit in to our hospital crew, won over the staff with his "cat-titude" and handsome smile, and decided that he did not want to leave the comfort of the hospital. Zoe decided he could stay, as long as he stayed in the back of the clinic and away from her reception desk!
Since the passing of Zoe this spring, Static has taken over the role of "clinic boss" and can often be found in the office trying to convince people to pet him instead of working on their computers, or sitting on the front desk entertaining clients and reception staff alike. He is a sweet natured boy and we are fortunate to have him on our Fur-Team.
Our Angels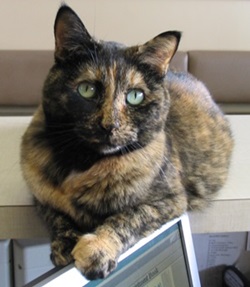 Zoe
In the spring of 2018, Zoe became quite ill from kidney failure and we sadly had to say goodbye to our sweet girl. Zoe lived at South Side Animal for the majority of her 18 years, coming to the clinic in 2002 as a stray cat. We miss her torti cat-titude and her funny nature.

Jeronimo
In December of 2017, Jeronimo's kidney disease progressed and we had to say goodbye to our kind and gentle boy. We miss his sweet little noises he would make for attention and his ability to give the best cuddles. We are grateful that Jerry was able to spend his retirement years at South Side Animal Hospital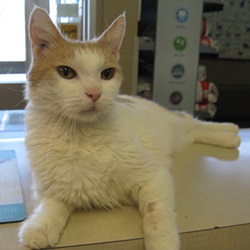 Jasper
We sadly lost our friend Jasper in February of 2014. He was a sweet and kind cat who succumbed to his pancreatic disease. He remains a part of our team in spirit.