Veterinarians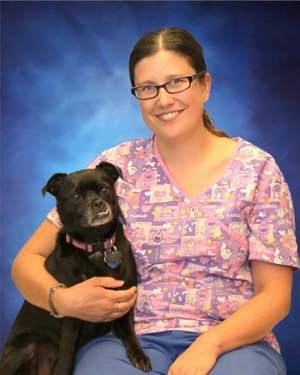 Dr. Heather Steele
Veterinarian/Clinic Owner
One of Dr. Steele's earliest memories of veterinary medicine is going on farm visits with her veterinarian father as a young girl, acting as his secretary, helping to fill in paperwork and label samples he collected. The Steele family had many pets growing up. From their Irish Setter Mickey (who had a litter of pups when Heather was only a few years old), to her rabbit Zipper, her hamster TJ, and her budgies Bluebell and Buttercup, Heather was always surrounded by animals. At 12 years of age, Heather finally convinced her parents to let her have her very own pet – a guinea pig named Patches. Since Patches, Heather has lived with many guinea pigs and these tiny friends now hold a very special place in her heart. Heather was always concerned for wildlife and was often found rehabilitating robins, sparrows, frogs and other injured creatures until they could be released back to nature (or performing funerals for the poor ones that didn't make it). Her desire to help animals led her to volunteer at various small animal and emergency clinics prior to entering veterinary school.
Heather grew up in Camrose, Alberta and after high school completed three years of a Bachelor of Science degree majoring in Biology at Augustana University College and the University of Alberta. She was then accepted into the Western College of Veterinary Medicine (WCVM) and graduated in 2000. During her veterinary years she pursued her interest in exotic animals, volunteering with the Wild and Exotic Animal Medicine team at the WCVM and taking rotations in exotic pet medicine, game farming, and external classes at the Calgary Zoo as well as a chicken medicine rotation in Ontario. During the summer following her third year, Heather did her preceptorship at South Side Animal Hospital with Dr. Ed Neufeld and became interested in cat and dog medicine and surgery, also developing a strong love for this clinic and its amazing clients.
After graduating from veterinary school, Heather worked in Wetaskiwin doing a mix of large and small animal practice including cats, dogs, horses, cattle, birds, alpacas, bison, goats, sheep, and elk. She then moved to a small animal practice in Sherwood Park for 2 years. When an opportunity arose for Heather to return to work at South Side Animal Hospital, she was excited to come back as a part time veterinarian in 2003. During this time, Heather also worked as a locum veterinarian filling in shifts at many different small animal and emergency clinics in Edmonton. In 2006, Heather increased to full time at South Side Animal Hospital, taking over as clinic owner when Dr. Neufeld retired.
Heather loves her job as a veterinarian and enjoys being able to interact on a daily basis with both pets and owners. She enjoys all aspects of veterinary medicine and has a special interest in surgery (soft tissue, orthopedics and dentistry), exotic companion mammal medicine and surgery, and cancer treatment including chemotherapy. Heather also enjoys being a manager and clinic owner and is extremely proud of her amazing team at South Side Animal Hospital and how dedicated they are to all animals and the people who love them. She believes strongly in promoting the veterinary profession and mentors students that are thinking of entering the veterinary field, as well as taking on placement students from animal health technologist, veterinary assistant, and veterinary schools.
In her spare time, Heather enjoys working with wildlife patients and has volunteered with the Wildlife Rehabilitation Society of Edmonton (WRSE) since 2003. Heather has served on the needs committee for the Animal Cancer Therapy Subsidization Society and as a board member for WRSE. Heather and her dog Bella go on classroom visits to teach elementary school students about veterinary medicine and participate in science fairs as requested. Heather and her husband Dean also share their home with their 19 and 20-year-old cats Max and Sasha, their 9 year old Pug mix Bella, their foster dog and cat Bella and Tony, and their new guinea pig named Pig. Dean has become a great help at medicating and treating all of these senior pets! Heather is also an avid curler and enjoys competitive curling and assisting with junior programs for kids. She also teaches Sunday School at her local church.

Dr. Margaret Fisher
Veterinarian
Dr. Margaret Fisher has had the opportunity to work in a variety of veterinary fields since graduating from the Western College of Veterinary Medicine in 1990 after completing her Bachelor of Science. She enjoyed working in mixed animal rural practice, emergency work, and government practice before settling into small animal practice. Margaret has worked at South Side Animal Hospital since May of 2015 and chose our hospital because she enjoys the people and the great quality of veterinary care we are able to provide.
Margaret has always felt a deep love and connection with animals which drew her into the veterinary field. She enjoys interacting with patients and finding ways to help make them feel better. She has an active volunteer with the Alberta Veterinary Medical Association for nearly 20 years, most recently completing veterinary practice inspections for the association.
Music has played an important role in Margaret's life. She is a dedicated french horn player and plays in two Edmonton groups as well as teaching horn to school kids. Margaret has also dedicated time to the River City Chickens to help promote responsible urban hen ownership. A husband, two teenagers, a German Shepherd and Jack Russel Terrier, a cat, and 7 chickens occupy the rest of Margaret's time. She is thrilled to be a part of the South Side Animal Hospital team.

Dr. Elizabeth Hodges
Veterinarian
Dr. Elizabeth Hodges is happy to join our team at South Side Animal Hospital starting in the fall of 2017. Elizabeth graduated from the University of Calgary's Veterinary Medicine program in 2016 and has been working in small animal practice since this time. We are excited for all of our clients and patients to get to meet her!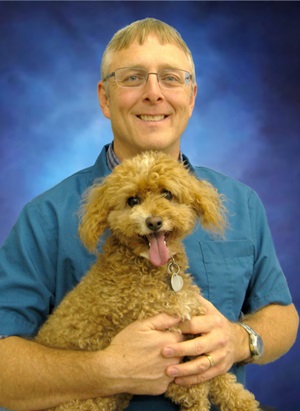 Dr. Craig Wilkinson
Veterinarian
Dr. Craig Wilkinson started working at South Side Animal Hospital as a veterinarian in 1996, covering one Saturday shift per month. He enjoys working with the enthusiastic and dedicated staff at our hospital and has had the pleasure of meeting many of our wonderful clients and patients over the years. Craig completed a Bachelor of Science in Zoology (Honors) at the University of Alberta before completing his veterinary degree at the Western College of Veterinary Medicine in 1990. Since his graduation, he has furthered his learning through dozens of seminars, workshops, and courses on different areas of veterinary medicine including business management, surgery and medicine in companion animals, diseases of fish, wildlife and rodents, and welfare of farm animals.
Craig decided to become a veterinarian because of his love for animals and his passion for science. Veterinary medicine has proven to be a wonderful career that allows him to use his skills to help animals as well as people. When he was about 10 years old, his family dog (a West Highland White Terrier) had puppies, creating an amazing experience for him and his sisters. The same dog also broke her leg and he remembers the emotions involved with the experience, the worry when it happened followed by the happiness when his dog recovered from her surgery. He wanted to help people the same way he was helped as a child.
Craig has vast experiences in the veterinary field. He started his career in mixed animal practice in Spruce Grove before moving into Edmonton in companion animal practice. He owned his own practice for 5 years before moving to the Edmonton Humane Society as the Shelter Manager and Head Veterinarian for 5 years. Since 2001, Craig has worked at the University of Alberta in the Faculty of Agriculture, Life and Environmental Sciences where he teaches in the animal science and pre-veterinary programs. Through his work, he oversees and helps in the care of a wide variety of animals including cattle, pigs, and poultry. Craig's home life has always been rich with animals including dogs, cats, gerbils, and fish. He has ridden horses and currently his family has a miniature poodle named Rufus that he rescued from the Edmonton Human Society as a puppy.
Craig loves being a veterinarian. His career has allowed him to work with a wide variety of animal species, and to meet people of all ages and backgrounds in many different settings. Craig likes meeting new people and enjoys helping them care for their animals. He has a particular passion for new puppies and kittens and loves helping clients ensure their pet will have a long and healthy life. He also has a soft spot for "senior citizen" pets and loves seeing families dote on these sweet patients. His work at South Side Animal Hospital allows him to see a mix of cases and he enjoys seeing all that we throw at him!
Craig and his wife Gail share their home with their two teenaged sons and their poodle Rufus. In his spare time, he enjoys hiking, skiing, wildlife and nature photography, gardening, and reading. He volunteers with his church and annually campaigns door-to-door for medical charities such as Heart and Stroke Foundation and the Lung Association. Craig also helps at the University of Alberta with open houses for high school students and is currently on the board of directors of three organizations: the Alberta Farm Animal Care Association, the Canadian Council on Animal Care, and the Canadian Association for Laboratory Animal Medicine. He has previously served on committees for the Alberta Veterinary Medical Association and the Edmonton Association of Small Animal Veterinarians.