Veterinary Receptionist & Animal Care Attendants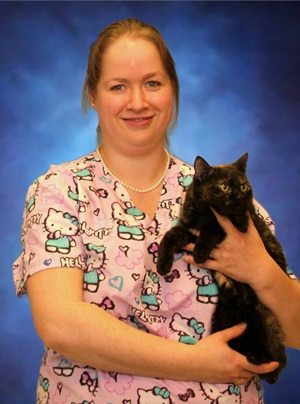 Megan
Animal Care Attendant
Megan began working at South Side Animal Hospital as an Animal Care Attendant in 2006. Her family has ties with our clinic, with her sister previously holding the same position. Megan often would come and help her sister at the clinic and was very excited to have an opportunity to work in the animal health field when the position became available. Megan grew up in an animal loving household and her family was never without at least one dog or cat.
What Megan loves most about being an Animal Care Attendant is that she is always learning on the job. It has opened her up to different types of animals she would otherwise not experience, such as her pet hedgehog. She has learned about many new treatment options for pets and loves being able to interact with the boarding cats, dogs, rabbits, guinea pigs, and others (including pigeons)! Megan loves working with all types of animals and has enjoyed learning more about wildlife medicine. Megan likes that we can help to improve the general well-being of all our patients.
Megan lives with her husband, daughter, and her microzoo of two cats, a pigmy hedgehog, a Florida King snake, and four Zebra fish. In her little spare time, Megan enjoys reading, crocheting, and going to the park with her family. She has previously taught Sunday school and worked with inner city children. She hopes to someday have more time to volunteer with the Edmonton Humane Society socializing dogs and helping them prepare for their forever homes. Megan's goal is to go back to school once her daughter is older and study to become an Animal Health Technologist.
Megan currently works evenings and the occasional weekend at South Side Animal Hospital. Due to Megan's evening work schedule, she often works behind the scenes to make sure the clinic is ready for our next day. She can be found in the back of the clinic visiting with the boarders and talking with our clinic cats Zoe and Jasper. We are happy to have such a dedicated person on our team!

Carmen
Animal Care Attendant
Carmen started working at South Side Animal Hospital in May of 2014 after completing her practicum her for her Veterinary Assistant program at the Northern Alberta Institute of Technology. She returned to school this fall beginning her Animal Health Technologist diploma at NAIT and works part time between our hospital and another small animal clinic in Edmonton during the school year. When Carmen is not busy between her studies and her work, she enjoys spending time with her beautiful kitty Katya.

Deanne
Veterinary Receptionist
Deanne joined our team in April of 2015. We are grateful to have her as a part of South Side Animal Hospital!

Shaylagh
Animal Care Attendant
Shaylagh joined our team in September of 2015. We are grateful to have her as a part of South Side Animal Hospital!