Our Furry Team - The "Bosses"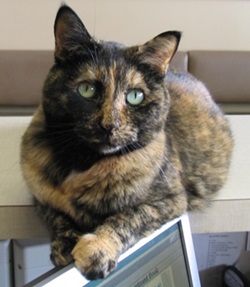 Zoe
Zoe is a 15 year old domestic short haired cat that was found in the summer of 2002 wandering the streets of Edmonton as a stray. The family that found her was unable to keep her since Zoe is a spunky girl and did not get along with their current cat. Dr. Neufeld took her in and gave her a home at South Side Animal Hospital. Zoe enjoys napping in warm places such as the back of the computer monitor and on circulating heating pads that we use for surgery and enjoys looking out over the reception area to ensure all of the canine patients are keeping in line.
Zoe loves rabbits and often will sneak over the front desk to visit them. Otherwise she has a torti cat-titude and but will take gentle pets and attention on her terms. She is generally a funny and sweet girl.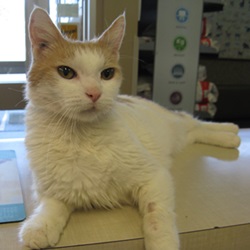 Jasper
We sadly lost our friend Jasper in February of 2014. He was a sweet and kind cat who succumbed to his pancreatic disease. He remains a part of our team in spirit.