Blog
October 2017
A Morning with Me – an RVT
By Gabriella Azevedo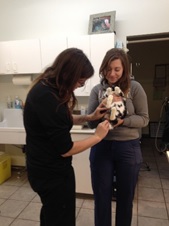 I walk into the clinic and there sits our newly diagnosed diabetic cat in for a blood glucose curve. She is a sweetheart and handles my pokes and prods like a champ. Mom has been really diligent giving her insulin at home and is using the tips and tricks I demonstrated for her. It pleases me deeply to be able to show mom how to provide the care her sweet cat requires.
The phone rings and it's a client wanting to rebook their pet's recheck appointment that is set for tomorrow morning. They booked the appointment a week ago as the Doctor wanted to ensure treatment was going as planned, but they are leaving town tomorrow afternoon. Great! I have no appointments available to offer. The client asks me "Can't the Doctor do us a favor?"
We understand life happens; I, the doctors, the staff all have them believe it or not ;). Just like our Doctors ensure your pet's well-being by providing treatment and rechecks, I and staff ensure our Doctor's well-being by not over scheduling and overworking them. It's tough getting caught between wanting to accommodate our clients and ensuring we have adequate time to treat their pets. We appreciate it when our clients do us a favor by sticking to the plan, coming to the appointments, and letting us take care of their pets.
The morning goes on. My team and I tackle the surgeries. We sedate our patients, and the poke isn't so bad as we place catheters and place them under anesthesia. We set up monitoring equipment to let us hear your dog's heart rate or watch your bunny's temperature. We clip and clean the surgery site, getting your pet ready for the Doctor and we make sure your pet is safe and sound while the Doctor performs the procedure. We recover your pet, keeping them warm and comfortable and then call you, the owner, to let you know your loved one did well and will be ready to go home.
This is just my morning! I love what I do. I'm a RVT and I get to help people like you, ensuring their fur family member is well. It doesn't get any better than that.